Season One
Bubblestand
Storyboard Director: Ennio Torresan
Storyboard Artist: Erik Wiese
Written by: Ennio Torresan, Erik Wiese, Stephen Hillenburg, Derek Drymon, Tim Hill
Animation Director: Tom Yasumi
Creative Director: Derek Drymon
Plot Summary
SpongeBob decides to open his own bubble stand, where people can pay to blow bubbles, or even get lessons. After his initial customer, Patrick, tries it, Squidward quickly gets annoyed, and attempts to put a stop to their shenanigans. When he thinks SpongeBob is making fun of him, Squidward tries to show them up at blowing bubbles. His attempts end up failing, with a tiny bubble coming out and falling to the ground. SpongeBob shows him his "technique", even though Squidward refuses to use it. After many more failed attempts, and being bugged by SpongeBob, Squidward does the technique to show him it won't work. This plan backfires, when the result is a giant bubble. SpongeBob and Patrick are very impressed, which puts Squidward in an excellent mood. He goes back to his house, and doesn't notice when the giant bubble he blew engulfs his house, and starts lifting it into the sky. He plays the clarinet as a way to brag to SpongeBob and Patrick, until he looks out of the window to see his house is far above the ground. The giant bubble pops, plummeting Squdward to the ground. SpongeBob and Patrick run back to their houses.
Pictures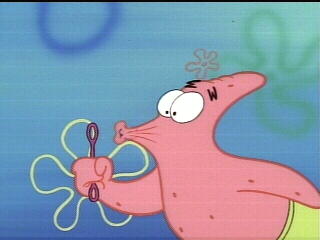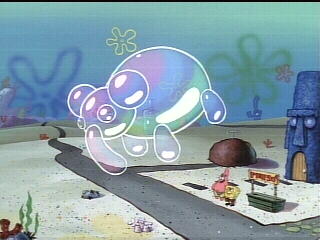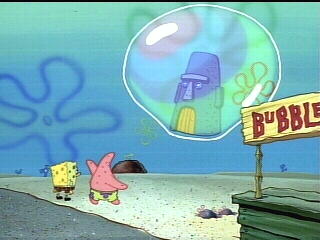 More Pictures...
Legal Crap:
SpongeBob SquarePants and all related titles, characters and logos are trademarks of Viacom International Inc. SpongeBob SquarePants was created by Stephen Hillenburg.

What that means in English:
I don't own SpongeBob. I am not SpongeBob. I did not make SpongeBob. I am just a fan with a website. If you want to say "I love your show", then email somebody at www.nick.com. You won't believe how many people email me thinking that I'm SpongeBob, or that I made the show. So, theres the truth, enjoy it.
Privacy Policy
Email me at
Cmonkey@SpongeZone.net
© 2002-2010
Nirav Patel