Season One
Tea at the Treedome
Storyboard Director: Paul Tibbitt
Storyboard Artist: Mark O'Hare
Written by: Peter Burns, Mr. Lawrence, and Paul Tibbitt
Animation Director: Edgar Larrazabal
Creative Director: Derek Drymon
Plot Summary
When SpongeBob is playing in Jellyfish Fields, he hears a noise in the distance. He leans over the cliff, and sees a squirrel fighting a giant clam. SpongeBob wants to rescue the squirrel from certain defeat and so he charges the giant clam, karate-style. As he is trying to open the clam's mouth, he really thinks he is strong enough to handle it, but it's really the squirrel that is opening it. When the squirrel defeats the giant clam, they both introduce themselves as SpongeBob and Sandy. Sandy invites SpongeBob to her treedome for some tea. When SpongeBob arrives, he can't breathe very well because the treedome is full of air. SpongeBob is in desperate need of water and uses the bird bath to soak some up. Patrick tells SpongeBob to raise his pinky to be fancy in situations like this. Patrick enters the treedome to pal along with SpongeBob but he, too, suffers the 'air' that SpongeBob did and grows tired quickly. As Sandy returns from getting cookies and tea, she notices SpongeBob and Patrick is a real starfish and a real sponge. Later, she fills two bowls with water and gives them both some tea.
Pictures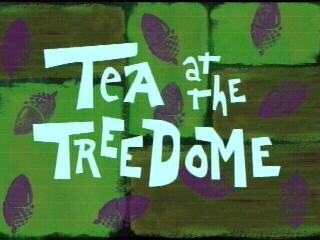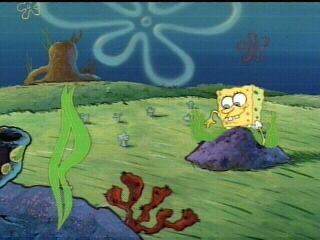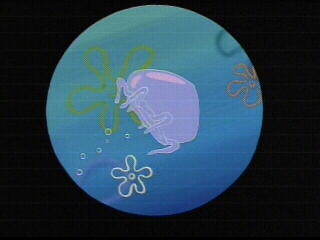 More Pictures...
Legal Crap:
SpongeBob SquarePants and all related titles, characters and logos are trademarks of Viacom International Inc. SpongeBob SquarePants was created by Stephen Hillenburg.

What that means in English:
I don't own SpongeBob. I am not SpongeBob. I did not make SpongeBob. I am just a fan with a website. If you want to say "I love your show", then email somebody at www.nick.com. You won't believe how many people email me thinking that I'm SpongeBob, or that I made the show. So, theres the truth, enjoy it.
Privacy Policy
Email me at
Cmonkey@SpongeZone.net
© 2002-2010
Nirav Patel